Posted by GP38/R42 Chris on Sun Aug 1 19:11:06 2010, in response to Re: The South Bronx of the 1980's, posted by Wayne-MrSlantR40 on Sun Aug 1 18:00:31 2010.

Greene Ave burned when many city blocks were destroyed in July 1977 with the "All Hands Fire", which began in a warehouse at the corner of Bleecker and Knickerbocker, and quickly spread to hundreds of homes, and destroyed I believe 20 city blocks in one day.
Here's a photo of that horrible day, this being Greene Ave somewhere between Central Ave and Knickerbocker.




The result was a decade of blocks from Greene to Gates and from Central to Knickerbocker destroyed. Here's a Meril Meysler photo of Gates between Wilson and Knickerbocker in the early 80's, and an "after" shot I took in 2007 at the same fire hydrant, below that and of Linden and in 2007 in the same location with Hope Gardens there now:

Gates and Wilson 1984:



Gates and Wilson 2007



Linden and Wilson 1982:



Linden and Wilson 2007 - Same fire hydrant:



By the mid 80's, the city had cleared many of these blocks and it was on vast open space, with St Barbara's Catholic church, the only building standing for many blocks. Greene Ave along with Gates, Menahan and Linden St had "Hope Gardens" built on it, a low rise project which began a 20 year rebuilding effort that was city funded. It wasn't until the early 2000's that FINALLY private investment began to invest in Bushwick, and now most of the construction is now private as opposed to public, and many of the remaining facades were refurbished and reused.

Here's some photos of the 'All Hands Fire" in 1977, it consumed more than 20 city blocks, and Bushwick looked like a bomb had fallen on it. It would take another 25 years to recover.




Here is another "Before and After" I took back in 2007, using the Meryl Miesler photo at Palmetto and Irving as the before, and mine as the after:




Bushwick has come a LONNNNNG Way.

More Before and After with photos I found on the net as "before", and my photos as the after:

Broadway and Linden: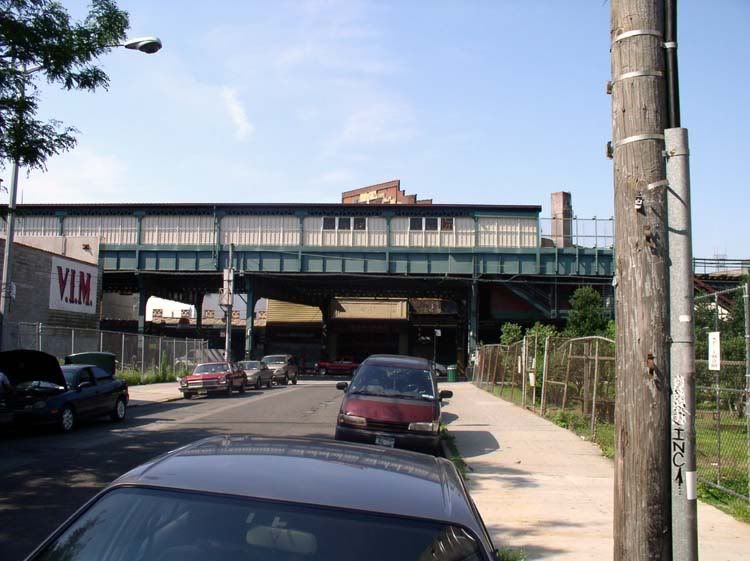 Look how beautiful this block of Linden between Bushwick Ave and Broadway is today, I took this shot in 2007:




Greene and Broadway: