Posted by Gold_12TH on Fri Feb 10 12:38:14 2012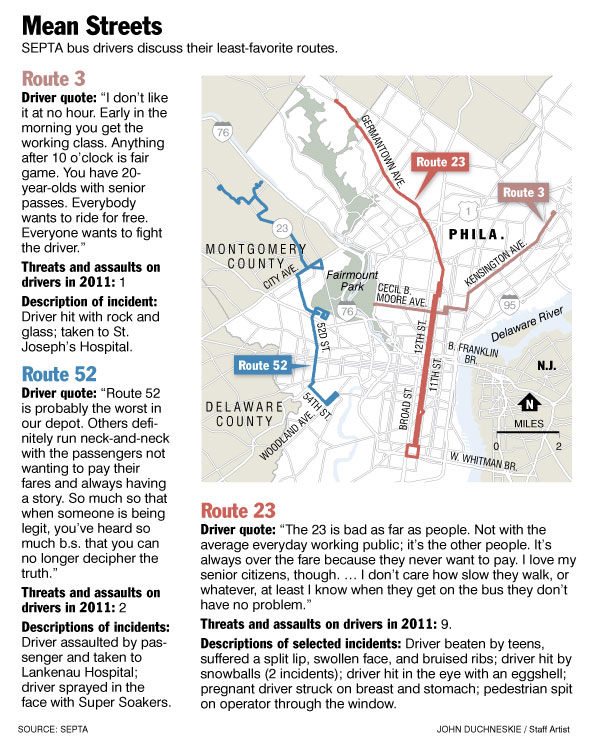 Day and night, SEPTA operators witness the soul of the city.

There are the regulars, Mr. and Miss So-and-so. There are hotel workers, casino workers, and fast-food workers, uniforms rumpled, coming home from the suburbs. There are suited professionals headed to Center City. There are honor students and delinquents. There are girlfriends cradling their babies on prison visits. There are tourists and shoppers. There are drunk partygoers coming out of Old City. There are twitchy addicts headed to Kensington and Allegheny; on the return, their fare is up their arms. There are the homeless who want to sleep. There are gray-haired seniors running errands.

There are traffic, construction, bicyclists in your blind spot, and people texting while walking in front of your bus.

And there is the constant threat of violence and the challenges of how to cope with it.

On the job six years, operator Lakeesha McNeely often prays on her bus:
Thank you for keeping me safe, Lord. Thank you for letting me not hit anybody. Thank you for blessing me with this job. And thank you for sending me to work every day.

"It's just so much that happens," McNeely said one winter morning at the Midvale depot. She is 33, a single mother of two, thickset, with her hair in neat twists and silver jewelry accenting her blue uniform.

On the Broad Street Line the other night, a man repeatedly threatened to punch her after she pointed out that his pass was four days old. On a day run, a lady snatched the stack of transfers from the cutter, refusing to pay. One night, three people vomited over the front seats. But what sticks in her mind, McNeely said, was driving the 47 the week before two young men stood at a North Philadelphia stop, aimed guns at the bus, and fired.

Their target: a man who had criticized another passenger for spanking her toddler son, who was running in the aisle.

"That could have been me on the bus," McNeely said. "What would I have done? Would I have been so fast to pull off? Would I have been ducking down with all the other passengers?"

Increase in assaults
Many SEPTA operators share common war stories from behind the wheel, where they are routinely cursed at, spit on, threatened, and hit.

There were about 90 assaults on them while on duty in 2011, 81 of them physical. That was up from 20 in 2010, partly due to more aggressive reporting.

Last year, one operator was hit with a soda bottle. One was cut with a razor. One was punched, dislodging three teeth. One was hit with bodily fluids. One was shot in an arm.

Arrests were made in only 10 of the 90 cases reported, based on SEPTA data.

Operators say situations can escalate over the simplest things, like requesting the $2 base fare.

SEPTA has adopted a new training program in response, which McNeely and 17 other operators went through last month. The goal over three days of training is to equip operators with communication and de-escalation skills to defuse what has become a harsh reality of the job.

So far, more than 350 operators have completed the training, which at first was a requirement only for new hires. Seasoned drivers were added in the fall in sessions similar to therapy, said Luther Diggs, assistant general manager of SEPTA operations. "They have wounds of years on the street."

'Could cost you your life'
SEPTA operators start out on what is known as the slate shift. They pick up routes at their assigned depots as needed to avoid delays. After a few years, they move to what's called the hold-down, varying shifts based on regular operators' days off. After a few more years, they can become regulars with designated routes. Everything is based on seniority.

On the street, where 1.4 million passengers board SEPTA vehicles on an average weekday, late is better than early; operators can still make the next stop on time. Life revolves around the clock.

Operators earn decent pay every Friday, an annual average of $50,000, and good benefits. Many also talk about the pride of knowing they help the city move.

But as one bus driver on the job 25 years put it: "You can have a peaceful trip, and the next stop all hell can break loose."

Keith Richardson, a six-year veteran who attended training last month, drives the Market-Frankford Line while most of the city sleeps. He was bashed in the face just four months into his SEPTA career.

Back then, the divorced father of two girls, the oldest a track star, drove the Route 3, which winds from Frankford to Strawberry Mansion. Shortly after midnight on that fateful trip, he asked a young mother to secure her baby stroller. She shot back with an expletive, and added that she was only going a few stops. When the stroller rolled up to the front, Richardson asked again, which didn't go unnoticed. As the woman got off, she grabbed the wheel chock - the hollow metal pyramid used as a backup emergency brake - and swung hard. Richardson grabbed her long braids before she could connect again. The damage was done; his eye swelled shut, his nose poured blood.

"I see stars, I see daylight, I see everything," Richardson, 43, recalled, able to brush it off now with a chuckle.

According to a 2011 report by the Transportation Research Board, the primary cause of assaults against operators is their trying to enforce rules.

Since Richardson was assaulted, "I'm guarded up," he said. "I drive like this now," his genial face cooled into a sheet of ice. The steely expression has become part of his uniform, along with his creased blues. He still jokes with some of the regulars, but for the most part, "you kind of shut it down." Richardson explained: "I can't afford to have a bad day. A bad day could cost you your life."

Installing cameras
In response to such assaults, SEPTA has installed security cameras on two-thirds of its fleet over the last three years; trolleys get cameras this year. Pending state legislation would upgrade attacks against transit workers to aggravated assaults, after a bus driver was shot in an arm on the Route 79 last year in Grays Ferry by a man who tried to board her parked bus. And there has been talk of putting protective shields between drivers and passengers, a measure used or being tested in New Jersey, as well as in Miami and Chicago.

Diggs, at SEPTA almost 30 years, believes such barriers would only make operators more of an object, more of a target. He sees the social-skills training as "the single most important thing we're doing right now" to boost service and retention, and help drivers deal with the myriad issues that step onto their vehicles on any given day.

"You can't respond to other people's foolishness," Diggs said. "The minute you feed into someone's foolishness, their issue becomes your issue, and in some cases, you have more to lose."

McNeely, who works the hold-down, has been contemplating another job. Day in and day out, she also arms herself with "the bus driver face."

"In the inside, I worry about my safety," she said. "But on the outside, if you wear your weakness or fear on your face, then some of the passengers will eat you alive."

Simulating danger
On this ordinary winter afternoon, during the social-skills training session, a SEPTA bus lurches to its next stop. From his seat, driver Carl Porter, on the job 24 years, holds open the door as more passengers file in. And like a lit fuse, the bus soon erupts.

"You got enough for that java," Porter, balding at 46, turns and says to a woman who, talking on her cellphone and sipping coffee, had walked defiantly past his fare box, "but you don't have your fare?"

"Shut the . . . up," the woman seethes as she makes her way to the back of the bus.

"I'm going to let you go," Porter tells her, "but the next time, you have that $2."

"The next time," the woman warns him, "I'm going to call my cousin and he's going to punch you in the face."

Porter stops the bus, and chaos roils as passengers chime in.

"Throw her off the bus!" "I got to get to work!" "Throw the coffee in his face!"

"Drive the bus!" the woman tells Porter. "Do your job!"

She says into her phone: "I need you to meet me." Then she lets Porter know in no uncertain terms that her cousin is going to hurt him.

The bus then breaks into laughter.

During that part of the training, the veteran operators role-played, with McNeely taking the part of the fare-evader.

"That was the realest one yet," one operator yelled.

The group then reenacted the scene using some new techniques.

This time, Porter apologized for his java comment.

Shifting attitudes
There are three ways to deal with conflict: sustain, escalate, or de-escalate.

During training, the goal is to shift attitudes. The method is based on a postwar reconstructionist approach to dealing with conflict and trauma, said facilitator Charlotte DiBartolomeo of Red Kite Project consulting, which runs the sessions.

According to a 2010 study by the National Urban League, city residents experience violence at a rate 34 percent higher than suburban residents. DiBartolomeo believes teaching public-service workers the effects of trauma and how to de-escalate those who have experienced it is key to community safety.

"Part of this process is for people to recognize they have choices in every interaction," DiBartolomeo said.

Shifts often occur.

"You're sort of flipping the script," trainer Zach Stone said. "If you're modeling a different type of behavior, people then have a choice to deal with you differently."

Both acknowledged to the class that nothing is foolproof. But, "if you give someone a certain amount of respect, that maybe they don't get from anyone else," an unexpected smile, a "please," or a tone that doesn't further isolate, "it can disarm a person," DiBartolomeo said.

Empathy, empowerment
At the end of the last day of training, the veteran operators tell what they will take from the class.

Porter, who also works nights at a shipping company, goes first.

"I do get out of hand," he said. "Sometimes I do get out of the seat. I learned things that could mellow me out, add a couple more years to my life."

Around the room, there is talk of empathy, patience, and empowerment. You never know what someone is going through, what they're bringing on the bus.

McNeely, who asked to go last, shifts in her seat.

"I learned different conflict styles create different conflict resolutions," she said, then joked how for her the training meant overtime.

Days later at her depot, she offered something more.

"I am still going to have to go through the same thing," she said. "I just want to have a safe bus. I just want to drive and get home to my family."
--- http://www.philly.com/philly/news/homepage/139066549.html?viewAll=y